Quality containment creates friction. Inserting a third-party company into a highly structured process is difficult to manage and monitor and can lead to delays. But it doesn't have to be that way. A modern, digital approach to quality containment can make it more seamless, reducing friction and providing tangible benefits to quality and productivity when there is a problem.
Not all containment companies offer such an experience. We've outlined below why that is, and how PTI has addressed common concerns with a highly efficient digital containment solution. Whether it's in response to a recognized quality issue, or as a proactive measure to avoid future disruptions, let's take a closer look at how a digital approach and commitment to excellence can make a difference when choosing a containment partner.
Digital Inspections and Containment
Technology has empowered the top tier of quality containment companies like PTI to implement an entirely new process. From the moment service starts, a digital approach automates many elements that would previously require significant time investment and subsequent disruption.
A Library of Inspections
PTI maintains a full library of every digital inspection ever performed. Each of these includes the inspection method, the rework method, and the effectiveness of both. It also includes the overall efficiency measured in the methods used and all of the data captured from individual elements of the process. The more inspections we perform, the more data we have. This provides our customers with several benefits, including:
Industry Data to Draw On – PTI customers never start from scratch. Our database is built from extensive experience with Tier 1 and OEM customers. It allows us to look for comparable cases and previous implementations and build a custom containment plan based on industry-wide data.
Setting Expectations - Not only can we make recommendations based on past experience, but we can also provide a clear summary of what to expect when implementing different types of solutions.
Never Lose a Lesson – Rather than cycling through similar problems again and again, leverage past inspection data to make measurable changes in your organization. By capturing everything, you'll have a database of insights to draw on for continuous improvement.
Reviewing Patterns in the Industry
With extensive experience in the industry, PTI recognizes certain patterns, and now we have the data to pinpoint their impact on your business. Some of the most impactful examples include:
New Vehicle Launches – There are certain components most likely to cause an issue when launching a new vehicle. Our data helps to identify the common issues that arise in the Body, Interiors, Chassis, Electronics, and Powertrain – the most likely culprits. By proactively setting up redundant verification of inspection before these parts reach the assembly plant, bigger delays and quality hurdles can be avoided.
Seasonality of Quality Issues – We leverage data to see when the most quality issues arise and correlate them to seasonal events. For example, we frequently recommend a double quality shield around the Christmas holidays. Fatigue, distraction and time off work all have a direct impact on quality at the end of the year.
A Safer Approach to Quality
One of the biggest points of friction when bringing in a quality containment provider is people. Containment employees need to be sent into facilities, often entering areas that are not typically designed for workers to enter. With a digital approach to training, we can ensure greater safety by:
Creating digital checklists and training materials that can be provided before entering a customer location. These can be updated in real-time.
Having instant access to all employees digitally to ensure quality and safety are both embedded in the workforce. Geolocation tracking helps us to account for people in an emergency.
A Cost-Effective Approach
Most large organizations have invested heavily in IoT – connecting devices to capture and act on key data. IoT enabled metrology equipment can be connected to our devices to instantly gather data remotely instead of typing it out. It's faster, more accurate, and can be analyzed without delays.
The result of technology integration throughout the quality inspection process is twofold.
We can be more proactive, with actionable insights that have a measurable impact on the bottom line.
Through a combination of better methods, data, and efficiency, PTI is more cost-effective than other quality containment providers. Digital processes help us recapture value and improve the total cost.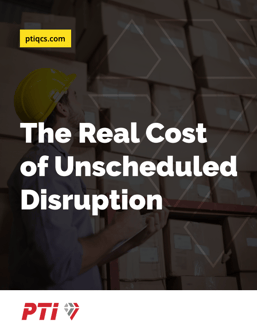 Our goal is to reinvent quality containment. To remove the friction and allow employees to go back to work and do their jobs instead of managing containment. With a combination of digital technology, extensive experience with top tier manufacturers in the industry, and a commitment to continuous process improvement, we are doing just that.
Learn more about the potential cost of disruption in our eBook, The Real Cost of Unscheduled Disruption, or reach out to discuss the next steps in developing a proactive approach to containment.